Rebecca Loos or Loose as she is known to most of the UK public is the Spanish girl who had an affair with soccer star David Beckham, who is married to Spice Girls singer Victoria Beckham (nee Adams) aka Posh Spice.
Shitstirring tabloid News Of The World was approached by publicity seeking leech Max Clifford with the explosive story that almost ruined a marriage and split up a family. All in the name of 'exposing' 'self-styled' 'role-models'. How very chivalrous of them.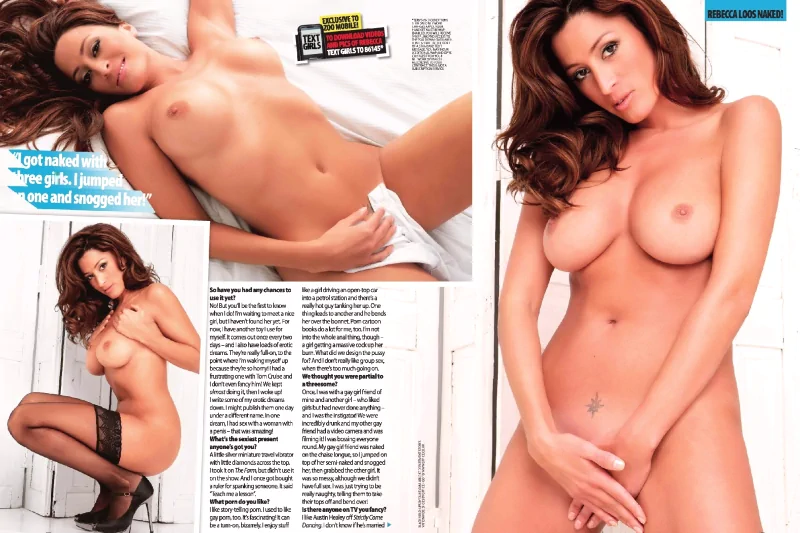 Rebecca went on to be one of those people clutching at every straw available to earn pots of money, going so far as to wank off a pig (yes, we did say wank off a pig) in a reality TV show where celebs were forced to live as some type of farmers or something. We aren't sure what the exact deal was, having not watched more than 5 minutes of what was a seriously shitty programme.
Rebecca then decided to shake off her slutty image and un-become a symbol of hatred by fucking everyone in sight, getting her pissflaps around Calum Best's cock before Lindsay Lohan did, some other C-list celebs AFTER everyone else did, and announcing her bisexual tendencies to anyone who could be bothered to listen to her.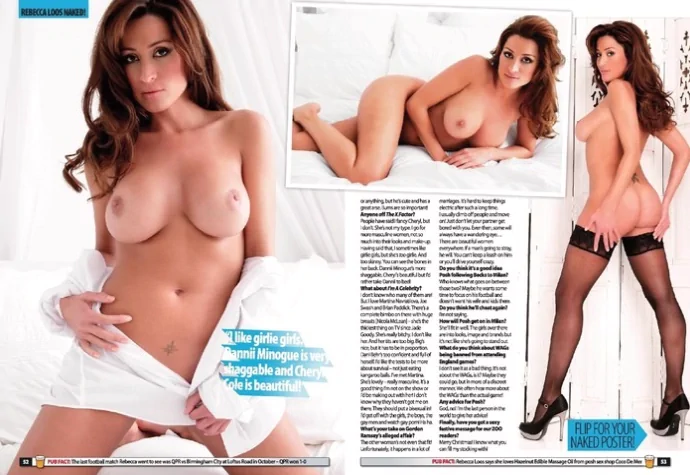 From then on, the only way for Rebecca Loos was up, and what better way than to become an A-lister than by having a boob job, and telling everyone you have a lovely set of bazookas, making sure to show them off in the sluttiest of outfits at everything from a night at a club to Sunday morning Service. Luckily she didn't visit the guy who managed to fuck up Tara Reid's tits, maybe she has slightly more brain cells than people originally gave her credit for. We did say 'slightly'.
Obviously annoyed at the lack of media column inches she was featuring in, Ms Loos has now decided that suggestive is out, and brazen in-your-face look-at-me-NOW! is in, and has posed for a series of nude and topless shots for a UK lad's mag (ZOO).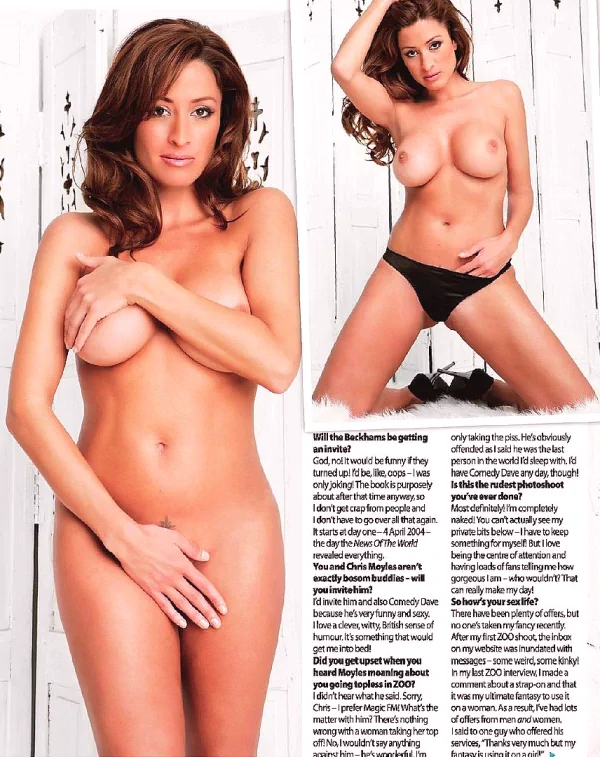 Of course, just getting out the baps isn't enough in this day and age, heck, even Britney knew you had to remove your panties, shave your pussy, and give a waiting paparazzi crowd the real deal with some X-Rated Celebrity Upskirts. So, what to do? Why, declare that you want to have lesbian sex with hit TV show X-Factor judge Dannii Minogue. Voila. Tits, scandal, lesbian fantasies, all in one punchy publicity episode.
For all that though, we have to be honest – that is a hell of a good boob job, and if it came down to it, all of us here agree that she'd get a length if ever the chance arose. And being Rebecca Loos, the chances aren't as slim as you might think 😀