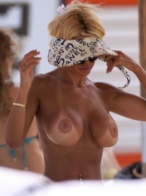 Well Shauna Sand is hitting the headlines up and down the country with the imminent home sex tape ready to burst onto our screens, so no surprise we have put together some candid shots of Shauna relaxing at Miami Beach sans bikini top in these topless candids of the busty lady herself.
As an aside, you've just got to love all the haters saying what a dog she is and so on – yeah like you'd say no if she'd just finished sucking your cock, and asked you to slip your length in her meat wallet lol.
Anyway, here are the rest of the pics with Shauna flaunting her massive tits, we'd bang that all day every day, and twice on.. well, every day too!
Only Stevie Wonder would disagree that this bazzoka titted cutie is worth fucking, and thanks to her sextape we can see how she performs. We don't throw the term 'maestro' around lightly, but Shauna more than earns that accolade! If big boob blonds are up your street, then you'll be wanting to check her fine ass in action. To use the old analogy, when she sucks cock it's like she can move a golf ball through a hosepipe.
If that isn't a sentence every girl wants to put on their resume, well, what is.